Coffee
VS
Matcha

Less Coffeine 4-6 Hours Of Energy
Grind Beans, Brew For At Least 3 Minutes
Preparation Scoop Matcha, Pour In Water, Drink
Why Zen Tea Leaf?
Premium grade & sourced directly from Uji, Kyoto Japan, the heartland of Japan's green tea tradition.

Certified USDA & JONA organic and routinely tested for safety & purity.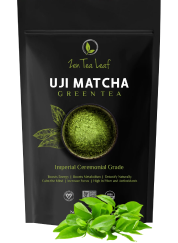 Shade grown, hand plucked & stone-milled to order in small batches.

All-natural, gluten-free, sugar-free, fair trade, paleo. All of the good stuff, none of the bad stuff.

Risk-free. Try it and love it. If you don't, we'll make it right or your money back, no questions asked.

FAQ
What is Ceremonial Matcha?
Answer : Ceremonial matcha traditionally means that tea masters use their best matcha powder for the tea ceremony, making ceremonial matcha the highest grade in a matcha collection. In the first harvest of each spring, our Zen Tea Leaf farmers select the most tender, premium quality matcha green tea leaves, and grinds them as our Zen Tea Leaf ceremonial matcha green tea powder. The result is an intensely rich level of umami, with creamy textures, very little astringency, and zero bitterness.
How much matcha should I use? How much can I have per day?
Answer : A single serving can range from 1 teaspoon to 1 tablespoon of powder. We recommend starting with less. See how you feel. Over time you can experiment with the ration of tea to water (or liquid) that best suits you. Matcha is rich in fiber, so if your system has been sluggish, you may experience some renewed digestive vitality. That's a good thing!
What does matcha taste like?
Answer : Matcha tea is made from shade-covered leaves. This process increases the chlorophyll content of the leaf and produces a full bodied, creamy vegetal taste, occasionally with an astringent note, depending on the grade of tea. Our Spring harvest, organic imperial ceremonial-grade matcha. Exhibits a smooth, mild, sweet & pleasant umami flavor with zero bitterness. Other factors like temperature of water and ration of powder to other ingredients will influence the flavor profile of your finished beverage.
Answer : Matcha tea is incredibly versatile and can be prepared as a tea with water, or used as an ingredient in lattes and smoothies. Traditionally matcha is whisked into a frothy beverage in a ceramic tea bowl, using a bamboo whisk. You can also sprinkle matcha powder over oatmeal, yogurt, fruit and blend with salt to add a unique greet tea accent to savory foods like tuna salad or eggs. However you like to prepare matcha, is the best way to drink it.